British rare & traditional sheep breeds
There are 56 sheep breeds native to Britain, which is more than there are anywhere else in the world. 22 of these breeds are on the Rare Breeds Survival Trust Watchlist, as there are very few of them. A further four can be found on the list because the entire population of the breed is confined to a small geographical area, making them vulnerable to outbreaks of disease such as Foot and Mouth.
All of these breeds have fascinating histories, many of which are interlinked. For example, the Suffolk breed derives from the Southdown and the Norfolk Horn.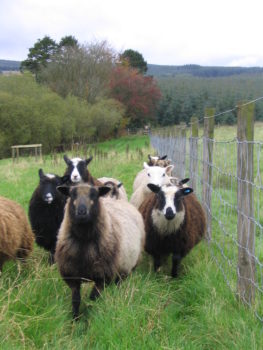 Primitive breeds
The following breeds are classed as primitive: Soay, Hebridean, Manx Loughtan, Shetland, Broreray and North Ronaldsay.
These are sheep which have been "unimproved" by the introduction of other breeds, often having originated in remote, island communities. Many have developed unique characteristics over time, which make them perfect for their environment.
These primitive breeds are often good mothers, small and easy-lambing. Fleeces tend to be coloured, and the breeds tend to have up to six horns. The fleeces of some of these breeds can be plucked, or even moulted, so shearing isn't necessary.
Owing to their small size, primitive breeds are often popular with smallholders as they don't tend to cut up the ground and are relatively light to handle. Their roots have made them thrifty, hardy and easy to look after. Their lambs are very small, so they often aren't slaughtered until they're over a year old.
Meat from these breeds is known for its fine flavour and quality.
Often of good quality and attractive colours, the fleeces of primitive sheep tend to be popular with knitters, craftworkers and handspinners.
Longwool breeds
A number of breeds exist which are classed as longwool breeds. This group includes the Leicester Longwool, possibly the progenitor of all other longwool breeds. These breeds were developed for their fleece, with some breeds capable of producing up to 20kg of fleece, sometimes in lustrous ringlets. Longwool breeds tend to be fairly large sheep, producing large amounts of mutton and lamb.
Other longwool breeds include: Devon and Cornwall Longwool, Cotswald, Teeswater, Wensleydale, Whitefaced Dartmoor, Lincoln Longwool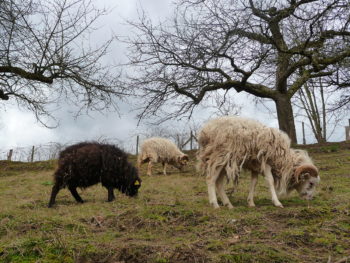 Other sheep breeds
Along with the traditional British breeds, there are many more breeds in the UK which have been imported from other countries. These include Beltex from Belgium, Bleu de Maine from France and Texel from the Netherlands.
These breeds are mostly used as terminal sires for use on Mules and other crossbred ewes to produce fat, fast-growing lambs. They have been specially developed to produce carcasses perfect for the supermarket butcher: long, lean, well-muscled hind end and a consistent shape and size.
There are also a number of other very distinctive breeds:
The Ouessant

A very small French sheep. This breed is most likely related to the northern short tailed sheep, much like the British primitive breeds. The Ouessant originates from the island after which it was named, just off the coast of Brittany. Fleeces can be coloured or white. Ewes of this breed usually only have one lamb.

For comparison, rams of the smallest British breed, the Soay, are 50-61cm at the shoulder, while Ouessant rams are just 48-50cm.

The Zwartbles

This breed originates from Friesland in the Netherlands. These polled sheep have a very distinctive appearance: They are black with a white blaze down the face, white socks above black feet on the back and sometimes the front. The tail has a white tip and is never docked.

These sheep are milky, and are used for cheese production in some countries. They are a relatively large breed (ewes 85kg, rams 100kg) and are long-lived and prolific.